Manolo says, one of the Manolo's many internet friends has asked the Manolo the question.
I am a tall bride (6 of the feet) and my soon-to-be husband, he is the exact same height as I am. Usually, I have no problem wearing the high heels, but I would like the low or *gasp* the flat shoe for my wedding. (Plus, my dress, it is barely long enough right now.) My dress, it is form-fitting and flares out a little near my feet, much like the dresses you featured by the Angel Sanchez.

Oh Manolo…i want to avoid the ugly shoes at all costs… (the horrors)

I love these shoes by the Vera Wang, but sadly, she may be out of my price range.

I also find these not terrible.

But honestly, I haven't found anything that I *really* like yet.

whatever is a tall girl to do?
Manolo says, first, your man of the six feets tall, he will not be threatened if you are the inch or two taller, and do not forget that he too will be wearing the heels, and, of the course, he is certain to stand up very straight on the day of his wedding.
Having said that, the Manolo would recommend to you this mid-heeled pump from the Anne Klein.

The heel on this, it is slightly over two of the inches, and it is right now
on the sale at $142 of the American dollars, $220 less than the Vera Wang.
This shoe it would be good with the dress of the mermaid style you have picked. Of the course, the dress of the mermaid it is the sexy style and so requires the sexy shoe, the flat it will not work.
However, if this it is either too pricey or too tall, then here is the shoe from the Kenneth Cole.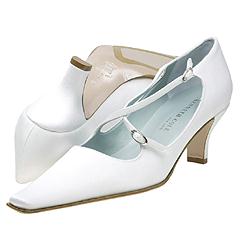 This one, it comes in the white or the ivory, and it is on the sale at only $55 of the American dollars, a good value for the poor college girl.
Of the course, there are cheaper shoes that are available for the buying, but remember that you will be on the feets all day long and the cheap shoes, they are certain to hurt.